Sectus Technologies is a Canadian company that offers security & infrastructure integrated solutions designed for the specific needs of clients throughout Canada, the Caribbean, Central America and South America. With offices across Canada and Barbados as well as service centers throughout the Americas.
Some members of the Sectus Technologies' management team and professionals have more than 30 years of experience and will offer you an exceptionally high-quality service. All the equipment and technologies offered are manufactured by worldwide leaders and are the best available on the market. Sectus Technologies' product lines address 6 markets: Airports, Ports and Borders, Correctional Services, Infrastructure, Military and Police and Event Security.
Our unwavering commitment to excellence and complete customer satisfaction has been the focus of Sectus Technologies since its inception.
Cherif Rizkalla,
President & CEO
Cherif Rizkalla has been President, Chief Executive Officer of Sectus Technologies since 2011. Previously, Cherif has successively held the roles of Executive Director at Caerocom ($10M), President & CEO of Heimann Systems USA ($50M) then at Smiths Detection, President North America ($80M), President Americas ($150M), President Security and Inspection Division ($500M) and finally, President & Chief Commercial Officer ($800M) before leaving Smiths Detection to focus on his own organization.

Cherif has a long track record of building businesses, identifying and capturing market opportunities and was instrumental in the significant growth of Smiths Detection and ultimately, its unchallenged market leader position.

Cherif is also recognized as a worldwide expert in the security field and, as such, has testified twice in front of US Congressional Subcommittees.

Maureen Allen,
Executive Vice- President
Maureen has over 35 years of experience in Sales, Marketing, Organization and Management of baggage handling and security systems and integration. In 1997, she has incorporated Secure Solutions Inc. to expand the core business and include additional Caribbean locations and establish representative agreements with major suppliers of security related equipment. To date, system installations in the Caribbean exceed 500 with sales revenue in excess of $50M.

In 2010, Maureen joined IMAC Services to expand their operations into the Caribbean. She developed a very collaborative partnership working with emergency and disaster Management, Law Enforcement, EMS/EMT, Fire Departments, Military, and Security Management in all organizations and making sure they stay on top with cutting edge Technology and Integration in the Caribbean Region.

Stefano Maiorana,
Director
Stefano has over 15 years of experience investing in high-potential, growth start-up companies and in organizational and business development. He provides financial capital to help initiate strategic business and marketing plans to develop and promote innovative quality products and services.

His extensive and varied educational and work experience have enabled him to develop an acute understanding of human behaviour and have made him an excellent communicator.

His expertise in leadership, stress management, crisis intervention, and conflict resolution has allowed him to work closely with major corporations, health and educational institutions amongst both individuals and organizations. Stefano has travelled across North America delivering over 5000 workshops and seminars for premiere businesses and organizations.

Philippe Lajeunesse,
Sales Director
Philippe has graduated (Summa Cum Laude) from International Relations with a specialization in international trade and economics at York University. He previously completed a Bachelor in Middle Eastern studies at Concordia University. His qualifications extend to languages with a bilingual background (French/English) and fluency in Spanish.

Over the years, he has developed his skills in market analysis and operations with a specialization in security solutions designed for the airport sector as well as correctional services for Canada, Latin America and the Caribbean contexts. Currently overseeing all projects throughout Sectus Technologies' areas of expertise.
Maurice Fortier,
Director Sectus Technologies International
Maurice has more than 20 years of experience in Canadian and International Business Management. He began his career in 1991 with BMO Nesbitt Burns Inc., a Canadian Bank owned investment dealer.

In 2001 Maurice moved to Barbados to work for a private bank and in 2006 founded Varsity Strategic Management Ltd. an international business consulting firm. In 2012 Maurice launched Verredus Funds Inc., which specialized in short term income.

With his remarkable expertise and excellent customer service, Maurice works directly with our clients in the Caribbean and South America as a Managing Director of Sectus Technologies International Inc.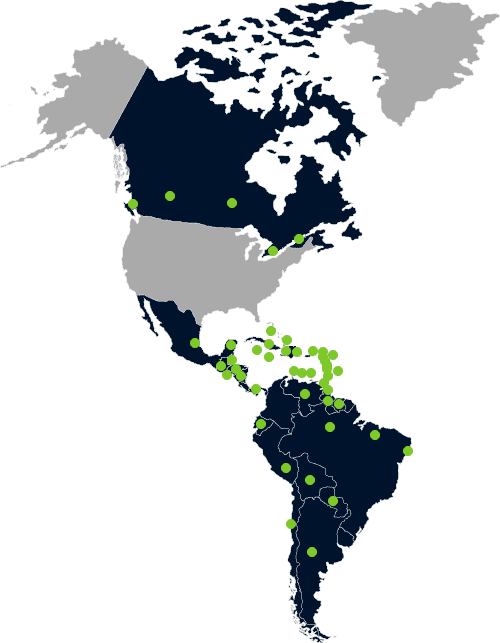 Locations
A proudly Canadian-founded company, Sectus Technologies sales and rental offices can be found throughout Canada, the Caribbean, Central America and South America. It is vital for us to know and understand our markets, and having teams that are in close proximity to our customers helps us do this. Year after year, our growing network of employees and trusted suppliers has translated into superior service for our demanding client base.