Back to product grid
IONSCAN 600 / Portable explosives and narcotics trace detector
Next-generation portable desktop system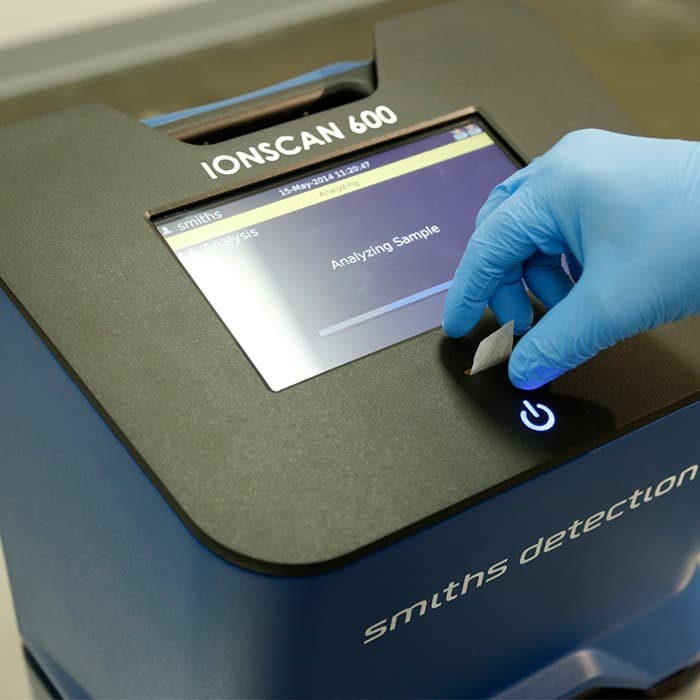 Features
Detection and identification in less than 8 seconds
Simultaneously detects and identifies explosives and narcotics
Non-radioactive IMS source
Small, lightweight and portable
Optional integrated printer
Single use, disposable sampling swabs
Approved/certified by ECAC, CAAC and TSA (Air Cargo)
T​he IONSCAN 600 is a next-generation, portable desktop system used to detect and identify trace amounts of explosives.  It features a proprietary non-radioactive ion mobility spectrometry (IMS) source, which means licensing from  national nuclear regulatory agencies is not required.
Universal software icon commands make training and operation of the IONSCAN 600 fast and easy.  Onboard diagnostics also assist operators with maintenance and offer troubleshooting for error resolution.
Sampling is vastly improved and done manually with cost-effective, single-use swabs, or with an optional low-cost, redesigned wand.
The IONSCAN 600 is optimized for minimal maintenance and features a robust design to help enhance productivity.
Weighing just 23 pounds (10.4 kilograms), the IONSCAN 600 features a built-in handle that provides easy portability.  Hot-swappable batteries provide sampling and analysis capability while still in use. The system also offers unmatched performance throughout extreme temperatures.
IONSCAN 600 provides accurate trace explosives detection for global aviation and critical infrastructure markets.